A wheelchair is perhaps one of the best discoveries made in modern times. Wheelchairs provide excellent mobility and enable a person to tread outside without being confined to limited space. Technological advancement has stepped in to make our lives even simpler since we now have an option to choose from a variety of wheelchairs right from a manual wheelchair to an electric wheelchair. Affordability is another important factor to be decided on before purchasing and hence there is a need to focus on wheelchair price.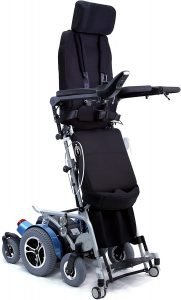 Despite such factors being put into consideration, it does not imply that wheelchairs are only for people with disabilities in their lower extremities. It is a common sight to watch elderly people being pushed around in wheelchairs inside shopping malls today. You may use a wheelchair in case you have an injury in your leg or simply because you find it difficult to walk long distances due to advancing age.
Things to keep in mind before choosing a Wheelchair
In today's modern scenario, wheelchairs come with a variety of add-ons and features and so making a straight choice is never easy. How to choose the right wheelchair is not easy but let's look at some of the factors that you need to keep in mind while making this choice. If you think there are some more, please add them in the comments section. 
Also Read: Different Types of Wheelchairs
How to choose the right wheelchair
1) Users' Age
The choice of the wheelchair depends on the age of the user, if the user is of old age and wouldn't have an aid around all the time, then it is recommended to go for a power wheelchair which can be used for mobility without getting tired or external help. If the user is young and the use is restricted to their home, a manual wheelchair works as well. So the age plays an important factor while making a choice of the preferred wheelchair.
2) Surrounding Area
This is one factor you can't afford to ignore. Let's say if the user is living in an area where the roads are not well aligned or are bumpy or maybe the user has a beach-facing house. In such a case an all-terrain or beach wheelchair will make more sense over normal power wheelchairs.
3) Size of the House
Now not everyone is privileged of having a big house, & thus in such cases the size of the wheelchair matters. Let's say you want to get a power wheelchair but if you don't have a wide turning space then the choice of rear-wheel drive power wheelchair won't be right.
4) Type of Disability
Are you someone who can stand on your own (or with the support of a stick) without the wheelchair? If not a standing wheelchair could be a good choice as that will allow you to stand & improve your blood circulation as well. If you have an upper body amputation (single arm), you can choose a One-Arm Wheelchair instead of the normal type.
5) Weight of User
Let's say if the user is overweight, then a heavy-duty or extra heavy-duty wheelchair is a good choice over normal wheelchairs. As these wheelchairs have a greater capability & can hold more weight.
6) Usage Type
Are you looking to have a wheelchair as a mobility tool? or are you looking at it as adventure equipment? In case of later, there are a wide variety of sports wheelchairs available which are more durable compared to the normal wheelchairs.
7) Budget
After considering all the above points you can choose the one that fits your budget. These days there is insurance available & thus budget can be kept a last deciding factor. If you have some extra to spend, you can always consider a more comfortable option however, you always need to check the non-negotiable features that you need in your wheelchair.
Not sure about the different types of wheelchairs? Click here to get complete info about it.
Benefits of a Wheelchair Over Other Mobility Options
Wheelchairs are a great option to improve mobility and thus enable a person to go out and socialize, get educated, and independent. Today, a wheelchair is available in various types that provide comfort to users and reduce the chances of additional health issues such as pressure sores. Electric wheelchairs take away the need for the presence of another person to operate it thereby saving the cost of employing helpers.
There are many alternatives to wheelchairs but they are either uncomfortable or expensive. The main dilemma, therefore, would be to decide on the best mobility option suited to your needs. Let us try to understand these alternatives and their features based on cost and viability.
A Walking Stick
This is the most common and the cheapest alternative to wheelchairs available in the market. While using a cane or a walking stick at home would be a good option, it offers limited support and comfort while you go out of the house. They do not offer great support in cases of weight-bearing injuries and there is a constant worry about them snapping into two quite easily and increasing the probability of an added injury.
Crutches
Another option that comes in after you have eliminated the walking stick is the use of crutches. Crutches are available in two versions in the market – auxiliary and Canadian. Auxiliary crutches are the basic under-the-arm crutches while Canadian crutches are the ones that come with a cuff to the forearm. While crutches are a great option to move around within your house, they require a good amount of strength in the upper body and are also uncomfortable to use if you have to move around a lot. Like walking sticks, they are also prone to cause you an injury if they slip out under you!
Walkers
Walkers are a better option than walking sticks as they provide better stability and mobility. Walkers come three and four bases supports with and without wheels. However, they can spoil your posture and create back problems if used for a prolonged period and are limited to indoor use without being much help with the stairs.
Knee Walkers and Seated Scooters
These are modern technological innovations that enable you to easier mobility and a better support while moving about. The biggest disadvantages that these options have are a high cost and maneuvering difficulties when used in a home.  
Top 3 Wheelchairs Available in the Market
Ottobock Motus Everyday Active Manual Wheelchair
Features
It has a height-adjustable rack to allow for better convenience.

The wheelchair is foldable which makes it portable.

The handles are designed ergonomically and have a sleek finish.

The seat is made of special knit spacer fabric which allows for better air circulation.
Pros
It offers 48 different wheel settings to adapt to your specifications.

The front frame is angled and provides improved forward stability.

The knee level lock lever is sturdy and is easy to operate.
Cons
This wheelchair is not designed for kids.
You can find additional information about the wheelchair below:
https://www.ottobock.in/wheelchairs-posture-control/activ-sport-and-outdoor/active-in-daily-life/motus_new/
JSB W03 Wheelchair Foldable for Patients with Mag Wheel
Features
It comes with a chrome plated steel frame and has a seat width of 20 inches.

It has a weight bearing capacity of 100 kg.

The weight of the wheelchair is approximately 19 kg.

There is a 24" rear wheel for users to operate the wheelchair.

The front wheels come with attendant brakes for safety.
Pros
It is ideal for the use of elderly and people with fractures.

The wheelchair is easy to navigate and comfortable.

The tyres are sturdy.
Cons
It is on a heavier side in weight when compared to similar models from other brands.
You can find additional information about this wheelchair on the link given below:
https://www.amazon.in/JSB-Folding-Steel-Patient-Wheelchair/dp/B01IMUUT3M
Ottobock B-500 Online
Features
It has a weight bearing capacity of 140 kg.

It provides an optional suspension for the chassis.

The users are given two options to choose from for the seat material – Recaro N-Joy or Recaro N-Joy Plus.

It provides an electric back angle adjustment.
Pros
It provides an electric seat angle adjustment of  upto 45 degrees.

Provides and electric seat height adjustment along with adjustable leg rests.
Cons
The wheelchair is not foldable so it may occupy a large space.
You can find additional information about the wheelchair below:
https://media.ottobock.in/_web-site/mobility-solutions/complex/files/b500_family_information_for_specialist_dealers.pdf
Conclusion
Lack of mobility is not an issue in the modern world. Technological innovations have surpassed the average human expectations and people with special abilities have no need to hide from the world. Hope you liked the article How to Choose the Right Wheelchair & are able to make the correct choice after reading this.