A wheelchair is one of the best inventions that has helped many to freely move without depending on anyone for help. Thanks to the technological advances in the field of wheelchairs, there are different types available based on your requirements. In this article, we will unfold all the different types of wheelchairs so that you can choose the one which best suits your need.
When purchasing a wheelchair, it's important to find a model that fits your body and matches your everyday needs. Different types of Wheelchair are:
Also Read: How to choose a wheelchair
Manual Wheelchair
Active Wheelchair
Power Wheelchair / Electric Wheelchair
Pediatric Wheelchair (Wheelchair for Kids)
Airplane Wheelchair
All Terrain Wheelchair
Hemi height Wheelchair
Rigid Frame Wheelchair
Position Wheelchair
Sports Wheelchair
Shower Commode Wheelchair
Racing Wheelchair
Mobility Scooters
Heavy-duty Wheelchair
Extra heavy duty Wheelchair
Lightweight Wheelchair
Transport Wheelchair
Beach Wheelchair
Custom Made Wheelchair
Folding Wheelchair
Narrow Wheelchair
Smart Wheelchair
Ergonomic Wheelchair
Wheelchair stretchers
1) Manual Wheelchair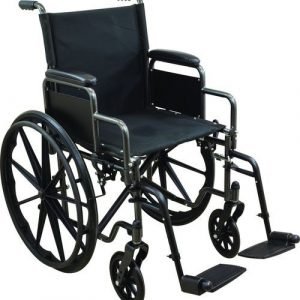 Manual Wheelchairs were the first type of wheelchairs created. As the name suggested you need to move the wheelchair manually with your hands. The user moves the wheelchair by holding the wheels. Can move it forward, backward, and also pivots.
Types of Manual Wheelchairs
Basic: A basic wheelchair comes with the essential components, including foot and leg rests, and desk-length arms. The seat width range is typically between 16 to 20 inches.
Lightweight: Lightweight wheelchairs are designed for people who plan to travel with the chairs. These varieties usually include the option for an adjustable back height and quick-release wheel removal.
Bariatric: For patients who are bigger and cannot fit into the width of a basic wheelchair, bariatric chairs are the best option. These types are constructed to support up to 700 pounds, and they typically come in widths ranging between 24 and 30 inches.
Manual wheelchairs with one arm drive (Single Arm Wheelchair): If there's one disadvantage of manual wheelchairs, it is that the user needs both arms to propel the chair. Manual wheelchairs with one arm drive solve this problem by connecting the two wheels with a specially-shaped axle, allowing you to move forward using only one arm.
2) Active Wheelchair
The active wheelchairs are basically designed to be versatile and adjustable to a busy and active lifestyle. Due to which these are available in many varieties and types such as ultra-light, folding, rigid, and even sports active wheelchairs.
These are most commonly manual wheelchairs, yet active electric wheelchairs do exist. Their versatile design also allows for any further customized modifications as per your choice as well.
3) Power Wheelchair / Electric Wheelchair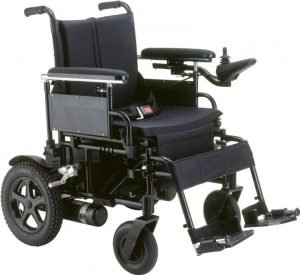 Just as the name suggests, these wheelchairs are powered by machines & thus are more convenient to use when compared to manual wheelchairs. This causes to have less fatigue compared to a manual wheelchair. They are comparatively a bit bulky as they come with a motor and a battery to operate the power wheelchair. There are 3 main types of power wheelchairs and the difference is based on the drive type. Drive type indicates the position of the wheels which are attached to the motor. These wheels are the largest of all the wheels.
Types of Power Wheelchairs
Rear Wheel Drive: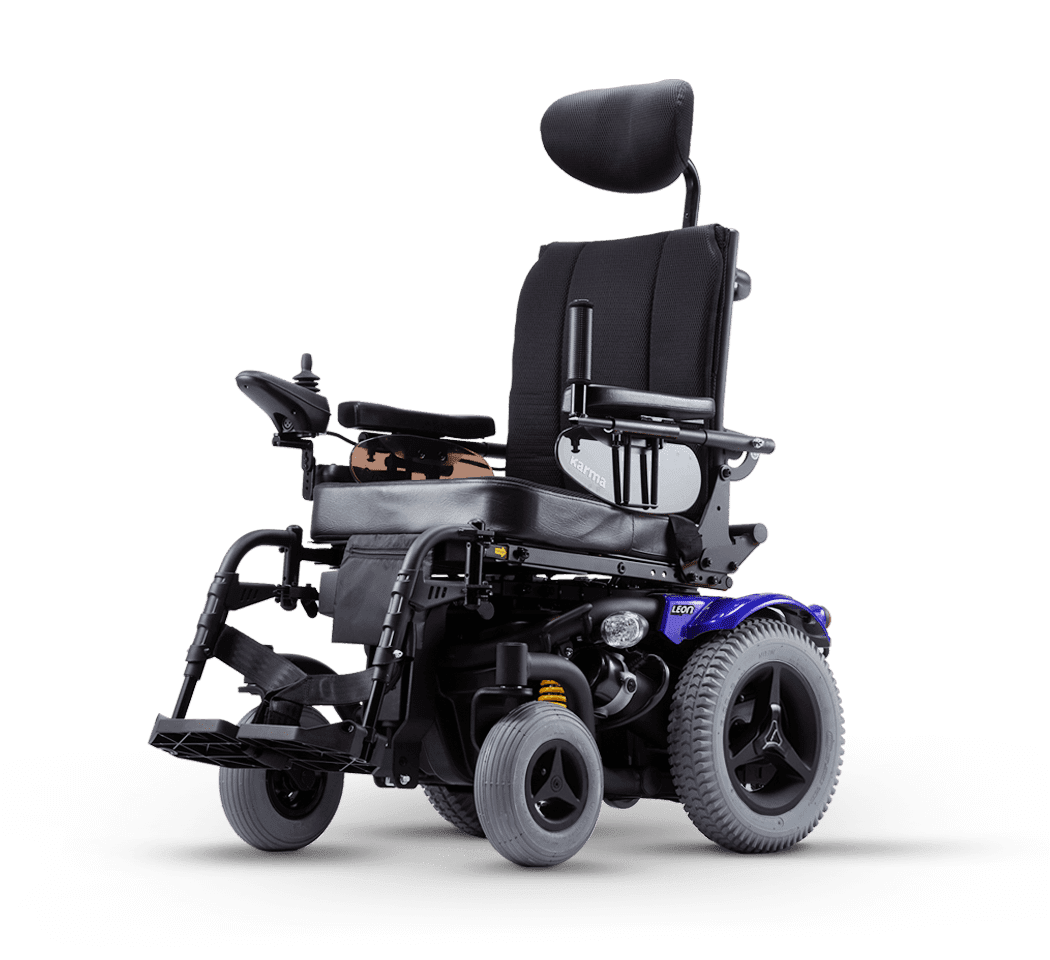 In this type, there are 4 wheels attached to the wheelchair, 2 big wheels are at the back of the wheelchairs and 2 smaller ones are at the front side of the wheelchair. They are more comfortable and have better shock absorption capability. However, the downsides are that they have a bigger turning radius and thus not good in tight spaces and have poor obstacle capability.
Front-Wheel Drive:
In this type, there are 4 wheels, however, the 2 big wheels are at the front of the wheelchair, which also increases the height of the wheelchair. They have a better obstacle handling capability but the turning radius increases (360*) due to the bigger wheels being on the front side. They are less user-friendly for someone just starting with them.
Mid Wheel Drive:
Unlike the above 2 types, these have six wheels. 4 small wheels at the front & back & bigger wheels at the middle of the wheelchair. This position of the wheels gives them more stability. They are comfortable and have a smaller turning radius too. They are not always easy to get used to, also their obstacle handing capability is not as good as the front-wheel-drive wheelchair.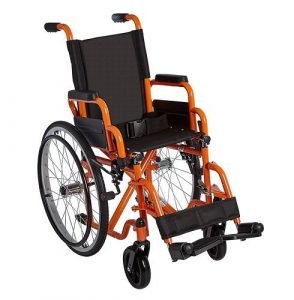 Pediatric wheelchairs are wheelchairs designed for kids. These again have all the wheelchair subcategories such as manual, powered, etc. However, some are designed to address specific disorders. The goal here is to quickly help children adapt to it. Most parents prefer to have one manual wheelchair, as it is simpler to use & can be used both indoors & outdoors.
There are options to design these wheelchairs in a fashion that the child likes. Fun colors and having them decked out can help children gain more confidence when with their peers.
5) Airplane Wheelchair
These wheelchairs provide maneuverability which means a controlled change in the movement in the required direction, in the limited spaces on airplanes and are mainly designed for users to allow for air travel as well. They are lightweight and foldable. These wheelchairs are most useful for those users who often travel.
6) All Terrain Wheelchair
All Terrain Wheelchairs are the revolutionary development in the field of wheelchair development. These wheelchairs are adaptable to almost any terrain, the include: sandy environments like beaches, off-road paths, and grass. This is probably the best pick for those with a spirit and love for adventure. Most of them are electric.
7) Hemi height Wheelchair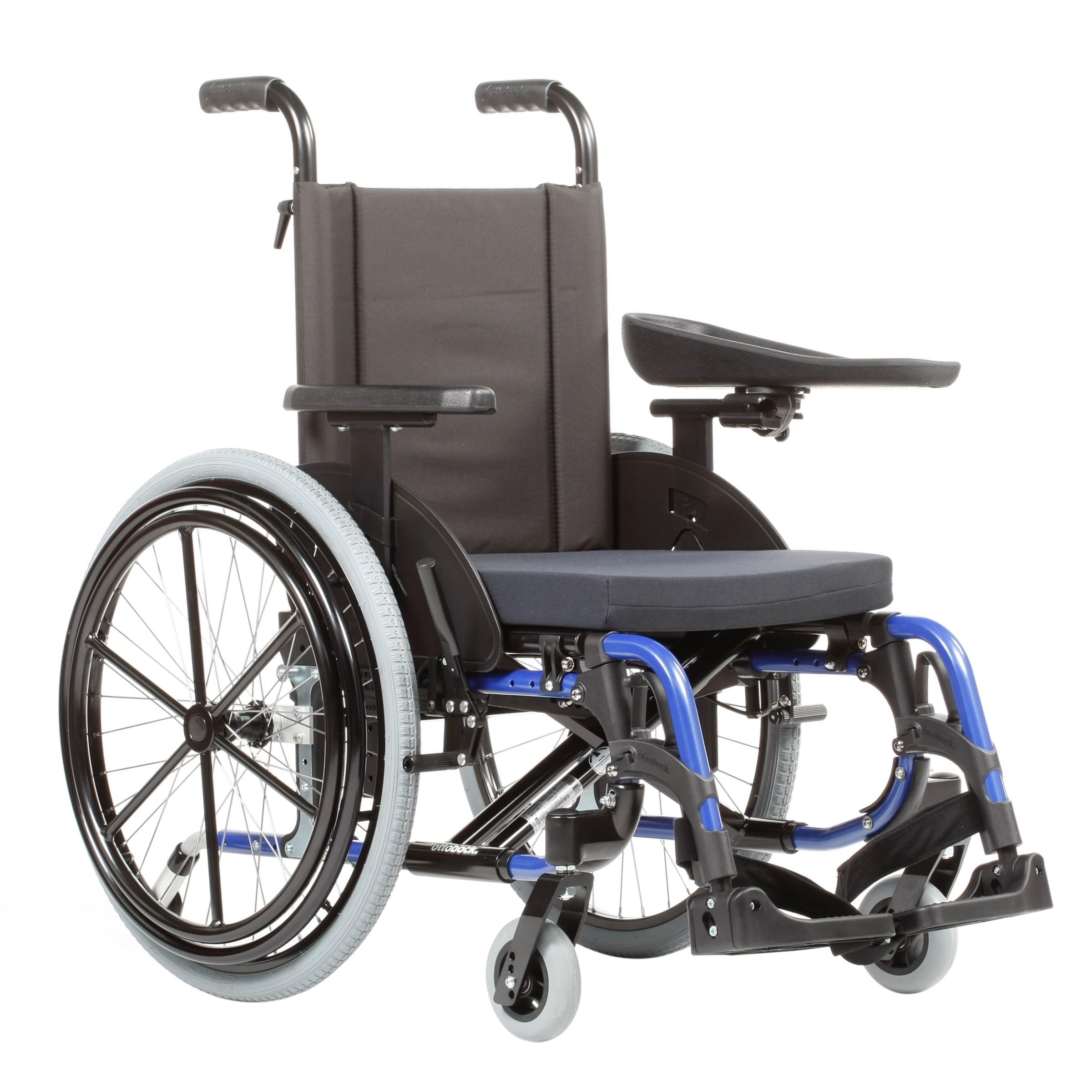 Hemi height wheelchairs are designed to adjust their height as for the comfort and the requirements of the user.
8) Rigid Frame Wheelchair
Rigid frame wheelchairs provide a generally non-foldable, strong and light-weight frame which is generally recommended and suitable for full-time wheelchair users. These wheelchairs are not at all recommended for transportation and travel as rigid frames typically cannot be folded. Despite this, the durable and simplistic rigid frame design makes them affordable and longer-lasting than many other varieties of wheelchairs.
9) Position Wheelchair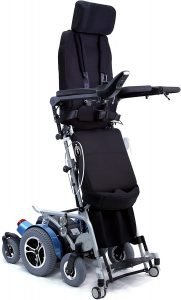 These are the type of wheelchair, which allow the user to move into different positions. It is an electric and battery-operated wheelchair. There is a variety of positions and styles available. A continuous sitting posture is not good and thus this type of wheelchairs helps the patient to move in various positions, giving some movement to them, which improves circulation.
Some help the users can raise and lower their feet, recline backward, some even allow the users to stand erect. A position wheelchair may have one or all of these positions, depending on the model and type opted by the user.
Types of Position Wheelchair:
Standing wheelchairs:
As the name already suggests this type of wheelchairs is designed for use at the time of standing. Most models allow for reconfiguration so they can be utilized in both seated and standing positions. While not the most technically advanced design currently available, this type of chair has the distinction of turning the user into a kind of living Transformer, just like in the movies!
Reclining wheelchairs:
An exceptional niche designed, offering all the benefits of a recliner, rolled into a wheelchair. These designs come with a pillow to offer greater comfort when resting in a reclined position. While it's possible to nap in chairs of this type, you'll almost certainly want extra padding if this is your intention.
Tilt wheelchairs:
In the world of wheelchairs, this type of chair can even recline or tilt wheelchairs. They both accomplish the same primary goal, although they achieve it via different sort of means.
10) Sports Wheelchair
Being in a wheelchair doesn't mean you can't participate in sports. These are specially designed wheelchairs (mostly are manual). They are available for various sports such as tennis, basketball, rugby, and racing.
Types of Sports Wheelchairs
Basketball Wheelchair:
Unlike the standard wheelchairs, these wheelchairs have the wheels fit in a slanted position. They have good support for the body, which helps the player stay seated tight in their position. The legs have good support to ensure that there are no injuries if the players collide with each other.
Tennis Wheelchair:
Just like the basketball wheelchair, the wheels, in this case, are fitted in a slanted position. Though these wheelchairs have two small wheels in front and rear to maintain balance.
Rugby Wheelchair: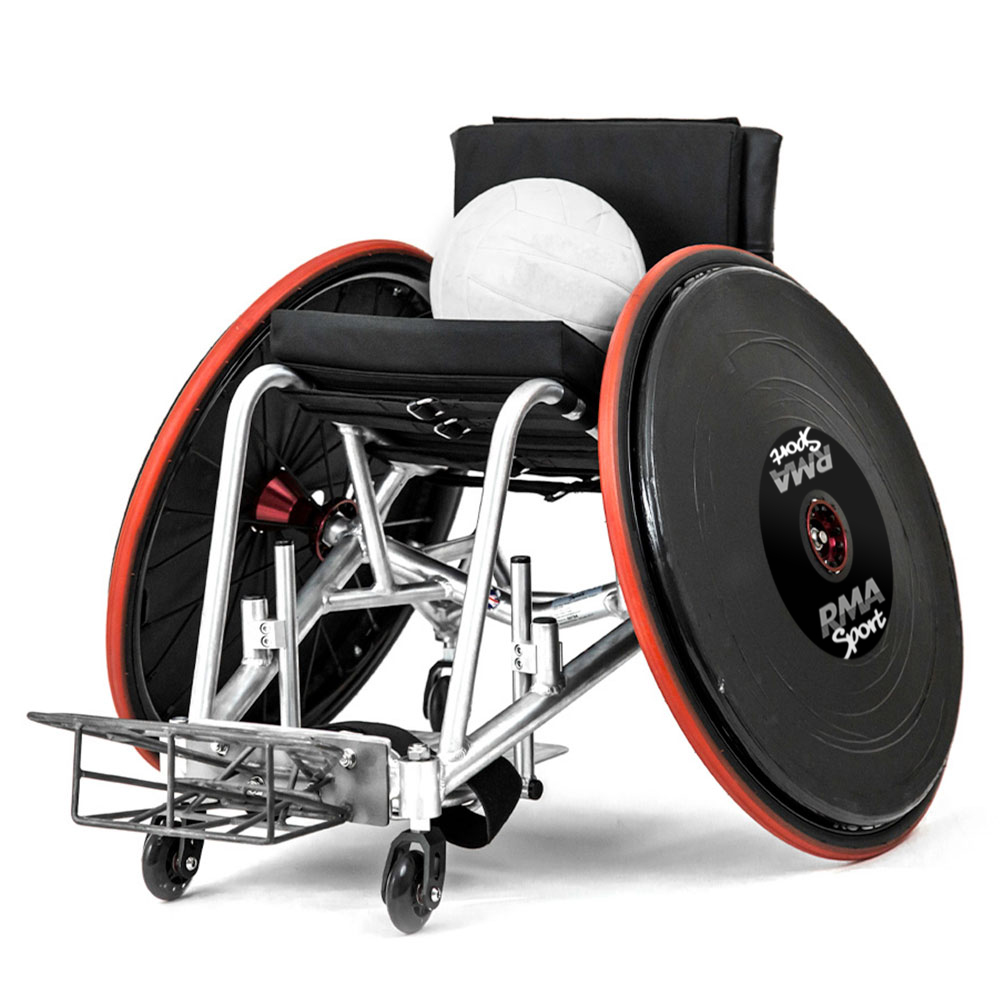 Wheelchair rugby is an intense game and thus the wheelchair has a front fender that protects the legs from clashes. They also have a design that can hold other wheelchairs in a tackle & some have wings in the front to avoid this.
Some other types of sports wheelchairs include football, racing, badminton & fencing wheelchairs)
11) Shower Commode Wheelchair
One of the most challenging situations for a mobility-impaired person is during the time the person is in the bathroom. It is too dangerous, as it is challenging to operate in a tight-spaced, wet environment.
Bathrooms and shower cubicles are among the top places in any house that serious accidents and falls happen.
Shower Commode Wheelchairs is a solution for these situations with their easy to use and comfortable builds. The water-proof design with stainless steel makes it easier for the user to operate safely in wet surroundings.
12) Racing Wheelchair
Racing wheelchairs are basically built for speed and to withstand high velocities in shorter distances. On average, a wheelchair racer could go as fast as 30 kilometers per hour.
Racing wheelchairs are available both for track and road racing. They come in the shape of a triangular "Go-Kart"-style chair with three wheels. They are especially suitable for riding on a straight track.
13) Mobility Scooters
Mobility scooters are an advanced type of electric wheelchair. They are configured more like a motor-scooter and more suitable for outdoor travel. Mobility scooters are also commonly known as power-operated vehicle/scooter or electric scooters.
14) Heavy-duty Wheelchair
These are designed specifically to hold patients whose weight is greater than 250 lbs., but less than 300 lbs. The patient's weight must be included on the Rx and in the office visit notes.
15) Extra heavy duty Wheelchair
This chair is designed for patients who weigh greater than 300 lbs. Again, the patient's weight must be documented on the Rx and the office visit notes. If a patient's weight cannot be obtained, this must be documented.
16) Lightweight Wheelchair
This is a standard wheelchair that is configured to assist the patient in easier self-propelling inside the home. It does not necessarily weigh any less than a standard wheelchair and is not meant to be prescribed as a way to assist caregivers in transporting patients outside the home. There are also some ultralight wheelchairs available.
17) Transport Wheelchair
A transport wheelchair has 4 small wheels. The patient cannot self-propel and a caregiver must be available to assist the patient inside the home. Documentation is required in the office notes to explain why the patient cannot self-propel and that a caregiver is available.
18) Beach Wheelchair
Another highly specialized design, these are almost always made from PVC or hollow aluminum tubes, with almost cartoonish large wheels to make it easier to traverse the sand. Just because you have mobility issues doesn't mean you have to be limited in the things you can do or enjoy!
19) Custom Made Wheelchair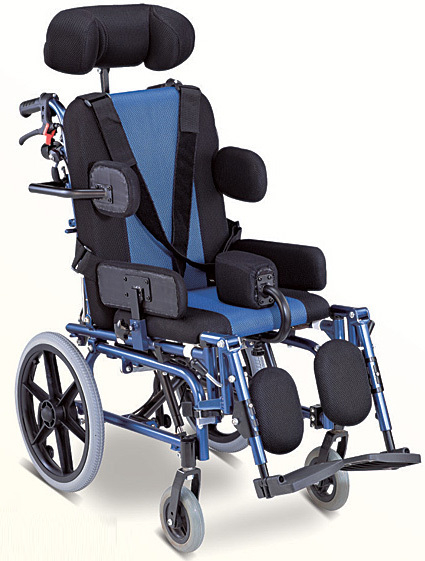 It's not wrong to say that not all wheelchairs will be the right fit for every individual, and there is no universally accepted measurement for them as well. The sizes and requirements of people change based upon their requirements and needs.
Custom made wheelchairs or "made to measure wheelchairs" become a solution to this problem. The sizes of these types of wheelchairs are actually customizable according to the body type, body size, body weight and the special requirements of any individual.
The price of such custom-made wheelchairs will vary according to the material and technology used to make them. These include selection of material such as metal, rubber and leather used, the number of wheels that one wants and also the degree of automation in the wheelchair.
20) Folding Wheelchair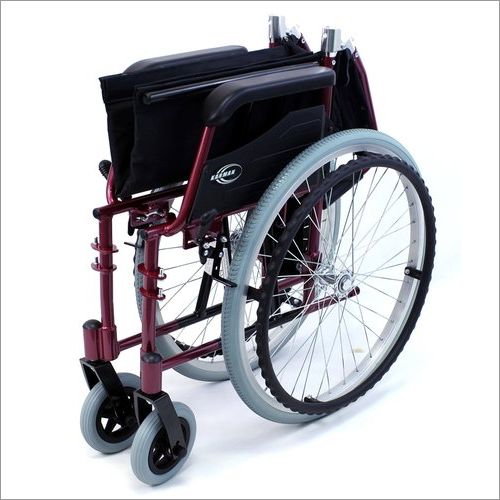 These are specifically designed to be stored in small places and are ideal for travel enthusiasts. Their lightweight design and foldable feature provides real-time mobility for the user. It is easy to store foldable wheelchairs in the trunk of a car or even a cupboard.
21) Narrow Wheelchair
Narrow wheelchair is a type of wheelchair specifically designed to be operated in closed space tight environments, which makes them an ideal solution for a person living in a small home or apartment.
The narrowest wheelchairs span from eighteen inches (18) to twenty-two (22) inches and are usually manually propelled.
Another perk of these wheelchairs are that they are light in their design and easy to be transported during traveling.
22) Smart Wheelchair
Smart wheelchairs are the technologically advanced and expensive type of wheelchair.
The new generation Smart Wheelchairs also feature artificial intelligence to minimize the user's human effort. In the near future, Smart Wheelchairs that can aid in movement could also be available.
These wheelchairs are fully automated and often have a built-in obstacle detection system to avoid collisions.
23) Ergonomic Wheelchair
An ergonomic wheelchair is the most used chair with the synthesis of a standard, manual wheelchair, with an ergonomic office chair with the superior support of lumbaristic. They're ideal chairs for people who spend extended periods of time while sitting.
24) Wheelchair stretchers
Generally, these types of wheelchairs are not purchased for the home. Mostly used in hospitals and by EMT professionals. It is a kind that can move to 180 degrees, effectively making it a stretcher. You can get an idea about how it works in the video below.
Conclusion
There are tons of wheelchair types and choosing one out of the above options can be an overwhelming task. However, with expert guidance and speaking to experienced people, this choice can be simplified.
Not sure which wheelchair is suitable for you? Click here to learn how to choose the right wheelchair.