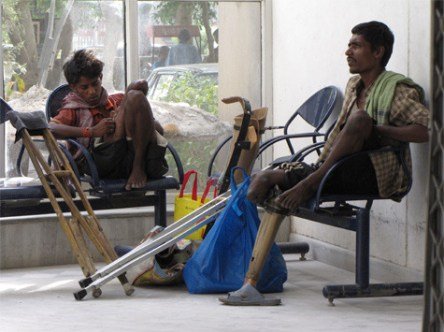 When I went to see different social businesses in India, I also learned about Jaipur Foot (BMVSS). An NGO founded by Mr. Mehta to help the poorest in India by providing each and everyone coming to his place with an artificial limb for free. It is an overwhelming experience to see how he achieved to change the lives of the poorest of his country.
This is how I got in touch with Christine Booth, a lady from the UK, who was touched so deeply by what she saw, when she visited the site, that she decided to produce a documentary film. She made it her mission to tell the world about the good, which is done there and to help Jaipur Foot getting more donations to be able to produce even more prosthetics.
She now started a campaign on Kick-Starter "Stepping forward form Jaipur Foot" to collect money to cut all the film material which she has produced within the six month at the site in Jaipur. Many people who got fitted with limbs at Jaipur Foot told her their stories and allowed her to document part of their lives with her camera.
Until October 10th, she has her campaign running to collect 12.000 pounds and she already has collected over 5000 pounds. I want to encourage all of you to even give a small donation, since if many of us give little, we can achieve big things together.
Christine, I admire you for your dedication to this project and am wishing you all the best to achieve your mission!