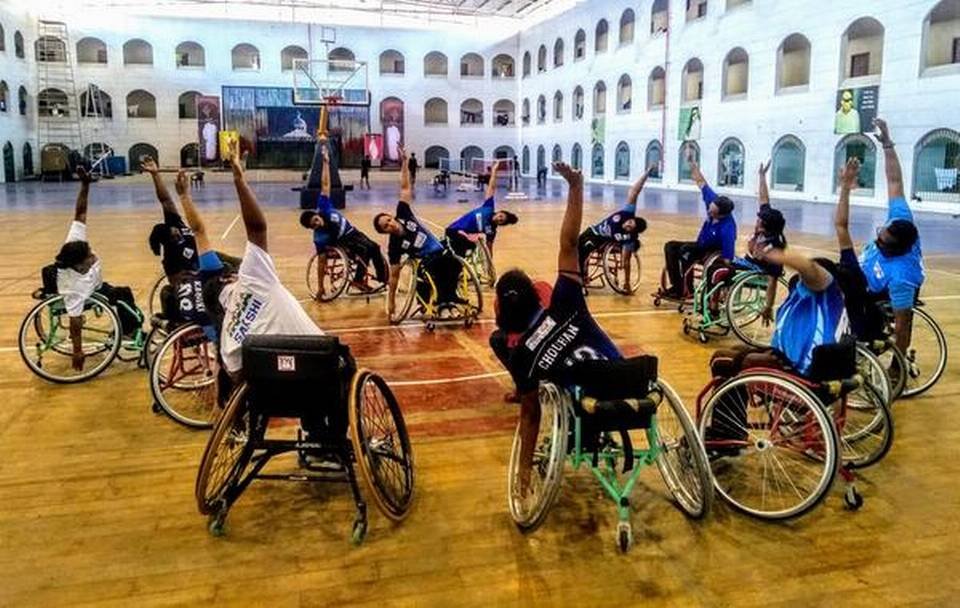 Theirs is a story of perseverance. The Indian Women's Wheelchair Basketball team and its backing mentors, talk to MetroPlus before they head to the 2020 Summer Paralympics qualifiers
As slivers of sunlight filtered in through the windows at the basketball court in Sathyabama Institute of Science and Technology, OMR, the players giggled mischievously, turning sharply on their wheels, before practice.
Kartiki Patel, captain of the Indian Women's Wheelchair Basketball team, started the drill, shooting some baskets. The enthusiasm was palpable, and the energy infectious, as players zoomed across the court, scoring consistently. "I played wheelchair badminton for India, before this, but basketball gave me the chance to be a team player," said Kartiki. A car accident in 2008 had left her with severe damage to her spinal cord, and almost no feeling beyond her waist.
P Madhavi Latha, founder-president of the Wheelchair Basketball Federation of India (WBFI), beamed proudly, watching her team train in Chennai, before the Asia Oceania Zone Championship that serves as the qualifier for the 2020 Summer Paralympics, in Pattaya, Thailand from November 27 to December 8.
Elevate the game
"This is the first time we have introduced a mentorship programme for both the men's and women's teams. The goal is to elevate their emotional and mental game, as they perform at bigger courts. We have volunteers from the corporate sector, teachers and former sportsmen, who chat with them in person or via video calls, lifting their spirits," said Madhavi.
The camaraderie between the mentors and their protégées was evident, with high fives, hugs, selfies and the inviting aroma of biryani that the mentors have lovingly cooked for the team, on their last weekend in the city.
"I am humbled by this experience. While I presented a session on utilising management mantras from The Mahabharata to improve performance, Ishrat Akhter, has taught me so much more. She was so shy when we started the camp. To see her tenacity and her mischief peek through, on court and off it, is such a joy," exclaimed Amitrajit Ghosh, Head of Site HR, Dow Chemical International.
Ishrat adjusted her hijab as she posed for pictures, and then settled in for a chat. "When senior Army officers came to my house in Baramulla in August, there was a curious crowd around us. I am the first wheelchair sportsperson from Kashmir, to make it to the Indian team. Villagers who would taunt me earlier now look at me with pride."
Coach Captain Louis George Meprath has overseen the career trajectories of many women on this team. A certified basketball coach and referee, Louis started out as the coach to the Maharashtra team. "Until recently, we had no courts to practise in Mumbai. Kartiki and a few other players would have to lug around their sports and regular wheelchairs in taxis everyday. Luckily, the Sports Authority of India came forward and corporate sponsors now bear equipment, transport costs and fees for international events."
The coaches and support staff perform all their duties at no cost, for the love of the game. "Being a sportsperson myself, I feel a kinship with the team. My brief is simple: I focus on keeping them in shape, and they focus on the game," added Dr Ramya Gnanapragasam, who has the unique distinction of being one of the first female doctors with a degree in Sports Medicine in South India.
An uphill task
Vikrant Sathyakumar, one of the mentors, who played for India in the under-19 Hockey World Cup in 1996, interjected, "Wheelchair basketball doesn't feature in the top ranking sports in our country, and I know what an uphill task it is to fight the system." Like Vikrant, a host of other mentors have come to the programme through Madhavi Latha, who is unanimously called the soul of WBFI.
"I don't play basketball. I had polio as a baby, and I would be carried around until I was in high school. I was given a year to live in 2007, because my spinal compression had stifled my lungs, but I did not give up. I taught myself swimming, started the Paralympic Swimming Association of Tamil Nadu in 2011, and then the WBFI in 2014. Many of my colleagues are supportive of my journey and I have brought them along as mentors, hoping to ignite a spark within this women's team," she said.
For many players, Madhavi has provided not just a platform to excel at a sport, but a chance to prove themselves worthy of praise, not sympathy. Jyoti Shivaji Thoralakar, the baby of the team, who left her village of Bailur in Karnataka for the first time this year, said, "Playing basketball has given me an opportunity to explore the world. I was the top performer at the National Championship in Punjab this year, a dream come true for my family."
For Jyoti, and the rest of the contingent, a ticket to the 2020 Summer Paralympics in Tokyo, would be the best reward for all the hard work and heartbreak, thus far. The practice neared its end, and the girls shouted in unison, "We're going for gold!"