Blade runner Sumit Choudhary did not let an amputation stop him from excelling in running marathons
Hailing from Uttar Pradesh Sumit Choudhary is an Indian para-athlete and the only state first blade runner in the T42 category who has successfully completed about 19 marathons without any support from anyone.
In 2016, Sumit met with a road accident when he was on his way to the gym, which left him with a crushed left leg and other injuries. After hours of struggle in the operation theatre, Sumit came out with one leg amputated due to blood loss and infection. He subsequently spent one month in hospital following the incident.
Further inspiration for Sumit originated from Arunima Sinha (the World's first female mountaineer who scaled the Mount Everest despite a leg amputation) who motivates him to pursue his dreams.
However, he did not give up on his dreams and running was always in his mind. Sumit did not let the amputation stop him from excelling in running marathons. In 2018 Sumit started running in 3km marathons without any coach or expert and the victory gave Sumit a surge in confidence, and he continued running marathons. It was only the start of an inspiring journey.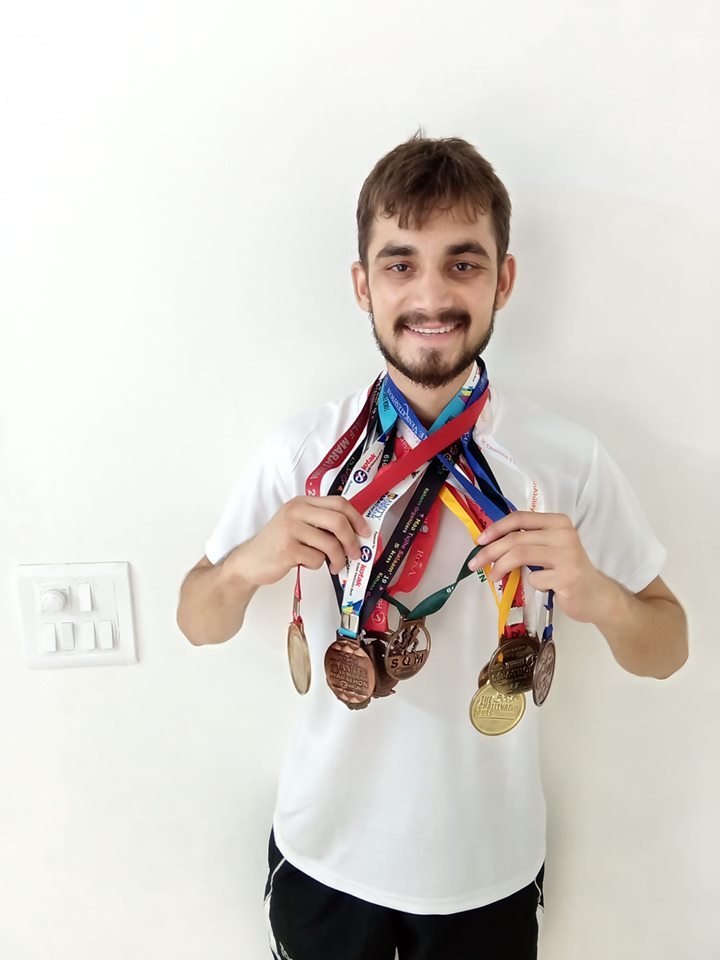 He defied the amputation to run marathons and says he recognized it as a challenge. He made up his mind to give his life a brand new purpose and ensure that his "quality of life" was never compromised. Rather than competing with para-athletes, he is competing with regular athletes and to date, he has completed a 10km marathon and that too with borrowed blade.
With a motive to motivate others, he says, "If I could rise above difficulties and become an achiever, so can others". He has also been invited as a guest speaker at events around Delhi. His immediate goal is to run a 100 marathons.
Due to unaffordability, he borrows a blade that is not of his size as needed for a marathon and is looking to get his own blade. If you would like to support him to get his blade, do let us know in the comments below or send us a message directly to get in touch with him.
Do let us know if you find such incredible stories around you and we would like to share their story with others.
---
Para-athlete Chandeep Singh not only won a medal at the World Taekwondo Championship but also holds a world record in Para-skating
Hailing from Jammu, this pro-Para-athlete has the distinction of winning a big haul of medals in Taekwondo at the international level at the age of 19. Before bagging 2 golds in South Korea, Chandeep Singh has won gold medals in Asian Taekwondo Championship at Vietnam and International Taekwondo Championship in Nepal. It is for the first time in Indian history that any Para-athlete won a medal at the World Taekwondo Championship.
Chandeep Singh was an 11-year-old when he suffered a life-threatening electric current of 11,000 volts. Surviving the high-voltage current was in itself a miracle, yet the harm it did to his body was devastating. Chandeep suffered fourth-degree burns, and also the infection forced the doctors to amputate both his arms. But losing his arms didn't break his spirit, days after he was released from the hospital, he was back in the sports arena, to win it big in Taekwondo and skating.
His underlying attempts at skating were more challenging since athletes need their arms to balance themselves. However, giving up was never part of the plan. Eventually, all his hard work paid off, practicing with able-bodied national skaters. Initially, he kept falling a lot because he didn't have arms to keep the balance. But, after falling a countless number of times, he finally managed it.
Today, he is a national level skater and holds the world record for the fastest 100-meters para skating (13.95s). He has also been selected as one of the 'Six Heroes of India' by India Today and been awarded the "Pehal Youth Proud Award" on Dr. APJ Abdul Kalam's Birthday, among different achievements.
Further inspiration for Chandeep originated from the unbelievable Indian sprinter Milkha Singh. "I need to state that Chandeep is making his nation proud, others ought to likewise imitate and perform similar accomplishments when Chandeep came to my home, I saw that he was working on his laptop and mobile with feet, he doesn't have hands, I was really moved," said Milkha Singh
Not only in sports but he is also best at studies as well, he has completed his Electric Engineering course from MBS College of Engineering and Technology, Jammu and is pursuing an ambition for the prestigious IAS examination to show the world that adversaries could be turned into beauties.
Do let us know if you find such incredible stories around you and we would like to share their story with others.
---
Meet Abhishek Thaware who defied his destiny by becoming India's first teeth archer.
He may have stopped running on a track, but in life, he's racing at a fast pace. Abhishek was just one-year-old when his father had taken him to a hospital when he was suffering from fever. This was where he was given an infected injection and his right arm was afflicted with polio.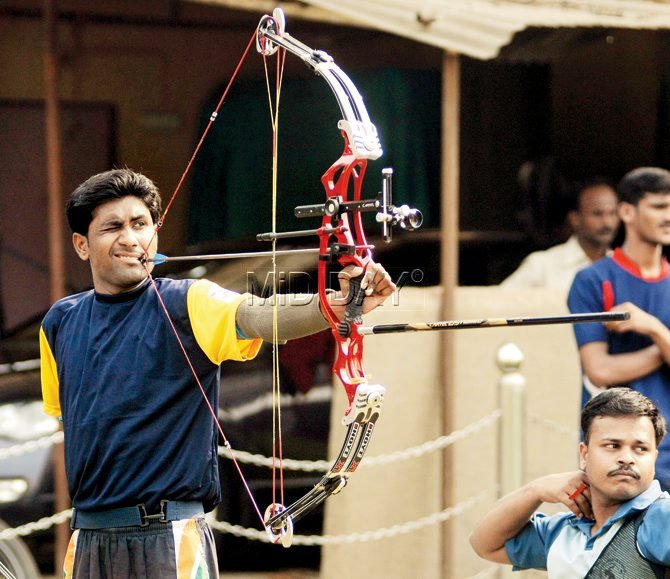 Despite his disability, Abhishek's family decided to admit him to a regular school where he realized his love for sports. He started with athletics, wherein he won various medals, long-distance running being his favorite. Achieving all this was when he was participating in the normal category was certainly a huge feat. This is when he was spotted by Mr. Rajendra Khandal, who ran Adarsh Mandir — a sporting club. It was him who introduced Abhishek to cross-country running. For nine long years, he was a successful athlete where he kept on winning medals and would have gone on to become huge, that was until tragedy struck him again.
Sadly, in October 2010, while practicing for a state-level tournament, Abhishek injured his knee. A doctor operated upon it and advised him to avoid running. However, running was all Abhishek cared for, so disregarding the doctor's advice, he still competed in the event. He even won a Bronze medal in the event, but little did he know that his knee would not allow him to run again.
But perhaps everything happens for a reason. And in Abhishek's case, the reason was archery. Abhishek's cousin, Sandeep Gawai, was an archer and he motivated Abhishek to join him. Abhishek was quite interested in the idea. "I didn't know anything about archery before that, but once I tried it, it changed my life," says Abhishek. He went on to win several state and national-level championships. It was quite a difficult training process though. "Since I didn't have a right hand, I had to tie a string to the arrow and use my teeth to pull it while using my left hand to support the bow," says Abhishek. When asked what he loves about the sport, he says, "Archery has given me something to look forward to in life. It is a game of patience and has taught me to keep in control many other aspects of my life."
Besides archery, Abhishek has a keen interest in studying as well. He has completed a Masters in Social Science at DNC College, Nagpur, and further plans to do a Masters in Social Work.
Abhishek has already won many accolades. Abhishek is the first and only Para Archery Player with Silver Medal in Maharashtra State Archery Championship and now he dreams of taking part in the Paralympic Games in 2020. Abhishek, who has even represented Nagpur University for two years, is one of the most inspiring athletes who is a living example of someone for whom giving up was never an option.
Do let us know if you find such incredible stories around you and we would like to share their story with others.
---
Olympian Devendra Jhajharia proves that physical limitations can never stop a determined mind.
The first para-athlete to win the country's highest sporting award who has brought two Olympic gold medals for the country. Devendra jhajharia has time and again shown that physical limitations can never stop a determined mind. It is not easy to maintain consistency for so many years. Devendra's grit and strong willpower have helped him break his own record!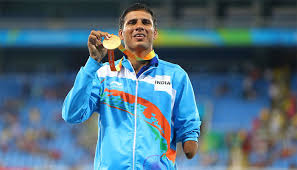 When Devendra was just eight years old, he had a freak accident. He was climbing a tree when he touched an electrical cable by mistake. The cable was not visible due to the tree leaves. Devendra was electrocuted as a result. He was immediately taken to the hospital. Unfortunately, it was too late. His left hand had to be amputated.
Devendra did not let the amputation stop him from excelling in sports. In fact, he used to win lots of prizes at school events. Devendra was spotted by Dronacharya Awardee coach RD Singh in 1997 during a school sports day event. The coach encouraged him to take up sport full time and helped guide Devendra on his early sporting endeavors. He soon moved to college in 2000 and was introduced to the sport of javelin throw by coach Dr. Satyapal Singh.
In 2002, Devendra won the gold medal at the FESPIC Games in Korea. He qualified for his first Paralympic Games in 2004 in Athens, where he went on to set a new world record with 62.15m, eclipsing the old mark of 59.77m; the throw won him the gold medal at the Paralympics. An Arjuna Award followed his performance in Athens and in 2012 he was also conferred the Padma Shri, India's fourth-highest civilian award.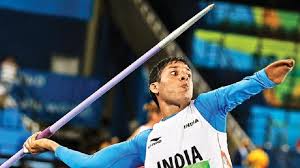 Having created history by becoming the first Indian to win Paralympic gold in 2004, Devendra once again rewrote the history by winning another gold medal and breaking his own previous record, 12 years later, at the 2016 Rio Paralympics. What makes his achievement even better is the fact that his sporting discipline wasn't a part of the 2008 and 2012 editions of the Paralympics, but he continued his training despite that.
In January 2018, he was awarded the Khel Ratna, the highest sporting honor of the Country – the first-ever Indian para-athlete to receive the honor. After a successful experience at the highest level, Devendra plans to give back to the sport by mentoring future Paralympians for India while continuing to train for Tokyo 2020.
Do let us know if you find such incredible stories around you and we would like to share their story with others.
---
Malvika didn't just survive, she re-built her life in such a manner that now she is an inspiration to everyone.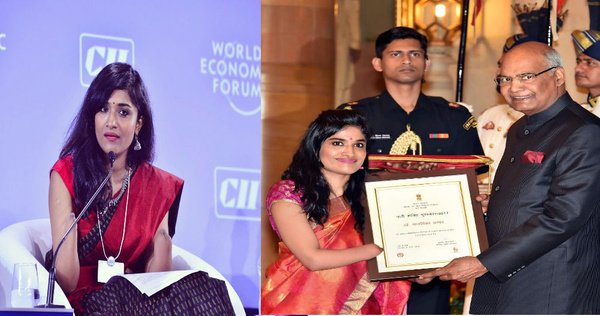 Malavika Iyer lost both her hands after a tragic accident when she was just 13. On May 26, 2002, a 13-year-old Malvika decided to fix her torn pair of jeans by sticking the edge with glue. In search of a blunt object, she ventured into the garage of her Bikaner home. When she found the object she thought it would work, Malvika hurried with it to her room. Little did she know, it was an explosive grenade. The family was unaware that an ammunition depot in the region had exploded months ago, and bomb pieces lay scattered in numerous pieces of the area. The moment Malvika hit the grenade on the fabric, it exploded. Malvika lost both her hands in the explosion and sustained severe injuries to her legs including paralysis of the nerves. For the first 6 months, she couldn't walk and was confined to a wheelchair.
After initially being confined to a wheelchair, she learned how to walk again and use a pair of prosthetic hands. She finished her class 10 with the help of a writer, and went on to achieve a state rank, and even completed her Ph.D. Ms. Iyer proved that nothing is impossible if one puts their mind to it. One very significant factor which helped her in her recovery was self-love. She realized that until you loved and celebrated your life you would never get over the insecurities which surround any disability, be it physical or mental.
Malvika has given many TEDx talks, which were the beginning of many speeches. She was invited to the UN Headquarters and even to Co-Chair the World Economic Forum's India Economic Summit in New Delhi.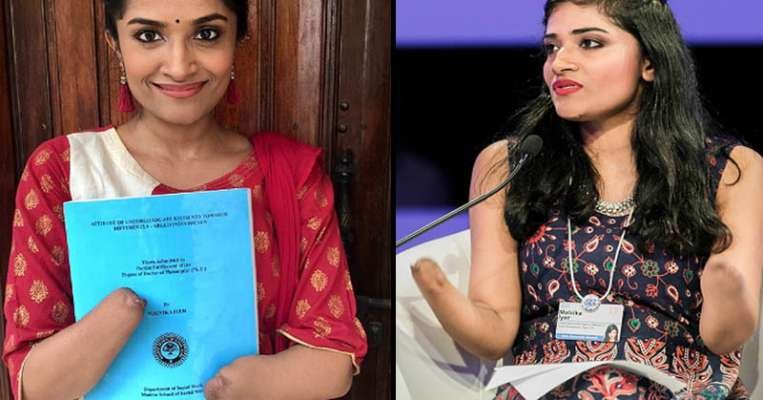 Malvika Iyer admits and accepts that her life has been a roller coaster ride, full of ups and downs, and sudden twists and turns. She now stands up for people with disabilities and wants to change the way normal people look at the differently-abled ones. She believes in the philosophy that being yourself is the greatest power you can have. What you look like or what you lack, doesn't change that. A bad phase or a disability is just a chapter in your book, it is not the entire story. The only person you can write your happily ever after is .. YOU.
Do let us know if you find such incredible stories around you and we would like to share their story with others.
---
Briju Mohan did not let the loss of his arm define him
Briju Mohan is a left-arm amputee. At the age of 28, he lost his arm in a bike accident. Dancing had consistently been enthusiasm and one of my first thoughts on the hospital bed was how to do salsa with one hand. Thanks to my friends, soon I was on stage with them performing in Singapore. That really boosted my confidence to be up there continuing to do what I love to do, said Briju.
Today, he is one of the co-founders/trustees for a non-profit organization in India – One Step at a Time and one of the main initiatives he drives as a part of his NGO is to create accessible opportunities for PwDs to pursue the passion of dance and its different forms. He further told that "His group wants to perform and consistently they fight to get rid of any awkwardness and misconceptions around the point of incapacity through dance."
Today Briju Mohan is learning contemporary dance form and Salsa is known to be his forte.
Do let us know if you find such incredible stories around you and we would like to share their story with others.
---
Kargil war veteran and India's first blade runner says disability should actually be understood as "this ability"
An army veteran, who lost his right leg in the Kargil war of 1999 is now India's first blade runner, who says disability should actually be understood as "this ability."
He was 25 when he was hit by mortar fire and shrapnel from the explosion had pierced his stomach and his legs, and he was left in a pool of his own blood. When he was rushed to the nearest hospital, Military Hospital Akhnoor, the doctors, apparently, pronounced him dead at first glance — his wounds were grievous.
However, a senior specialist who was visiting the hospital took charge of him soon after and he was not ready to give up that easily. By the time the Major was revived and got back his consciousness, the hospital staff informed him that part of his leg was amputated as gangrene had set in.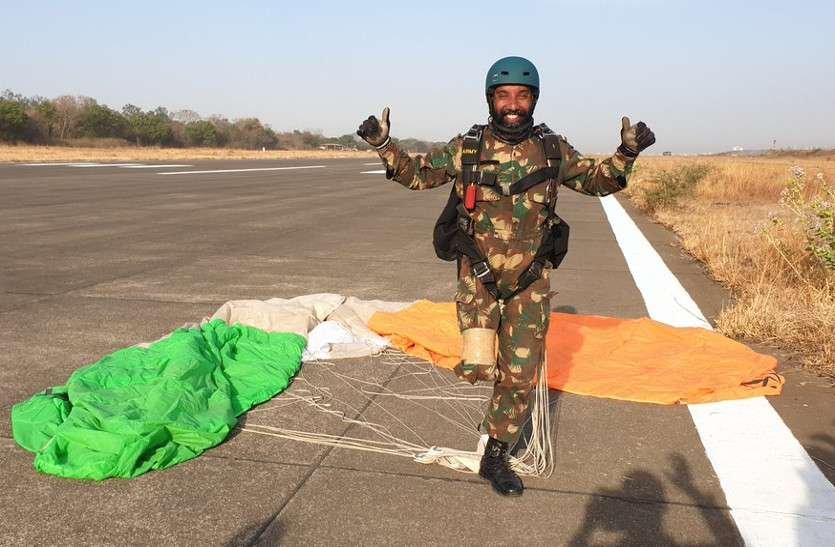 As a major part of his recovery, the Major began to play golf in the last half of 2000. "Sports is the fastest way to build the correct attitude," says the Major. "And with the correct attitude, you don't feel like you are disabled or an amputee.
He defied the amputation to run marathons and says he recognized it as a challenge and failed to admit defeat to the negative thoughts. He made up his mind to give his life a brand new purpose and ensure that his "quality of life" was never compromised.
Singh has completed about 18 marathons successfully and has a three-point success mantra – accept the truth of reality, figure out how to control your mind, and increase your ability to accomplish what you wish for.
Not only did running as an amputee change Singh's day-to-day life, but it also helped him change people's attitudes towards the disabled.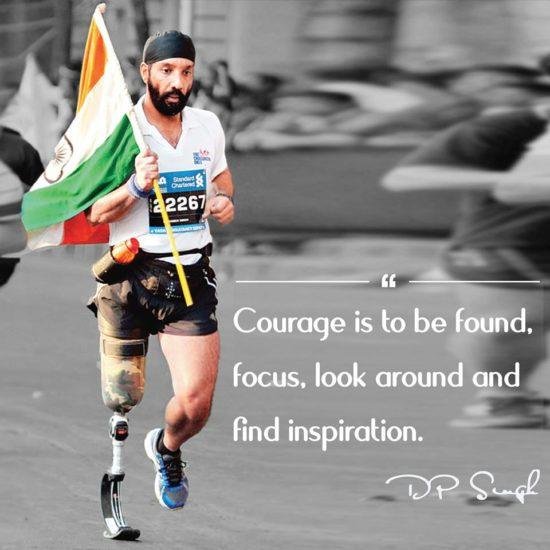 He credits the training granted by the Indian Army to fuel his determination and has advised several disabled troops and soldiers to never give up and stay cheerful in every situation.
DP Singh's extraordinary journey from being a military officer to an amputee marathon runner has given him recognition as a motivational speaker – and he has been a source of inspiration to many.
Do let us know if you find such incredible stories around you and we would like to share their story with others.
---
Dhaval Khatri rewrites his destiny to become a unique artist
At the age of fourteen, while flying a kite, Dhaval Khatri lost both his hands due to electric shock, when he accidentally hold the electric wire rather than kite flying thread. His heart had stopped beating for a few seconds only to be revived again by a doctor who was passing by. Even though he was rushed to the nearest hospital, his hands had to be amputated as they were burnt badly. The school where he was learning didn't permit him to continue his education. So he got enrolled in another school and try to continue his education. Later he graduated from college.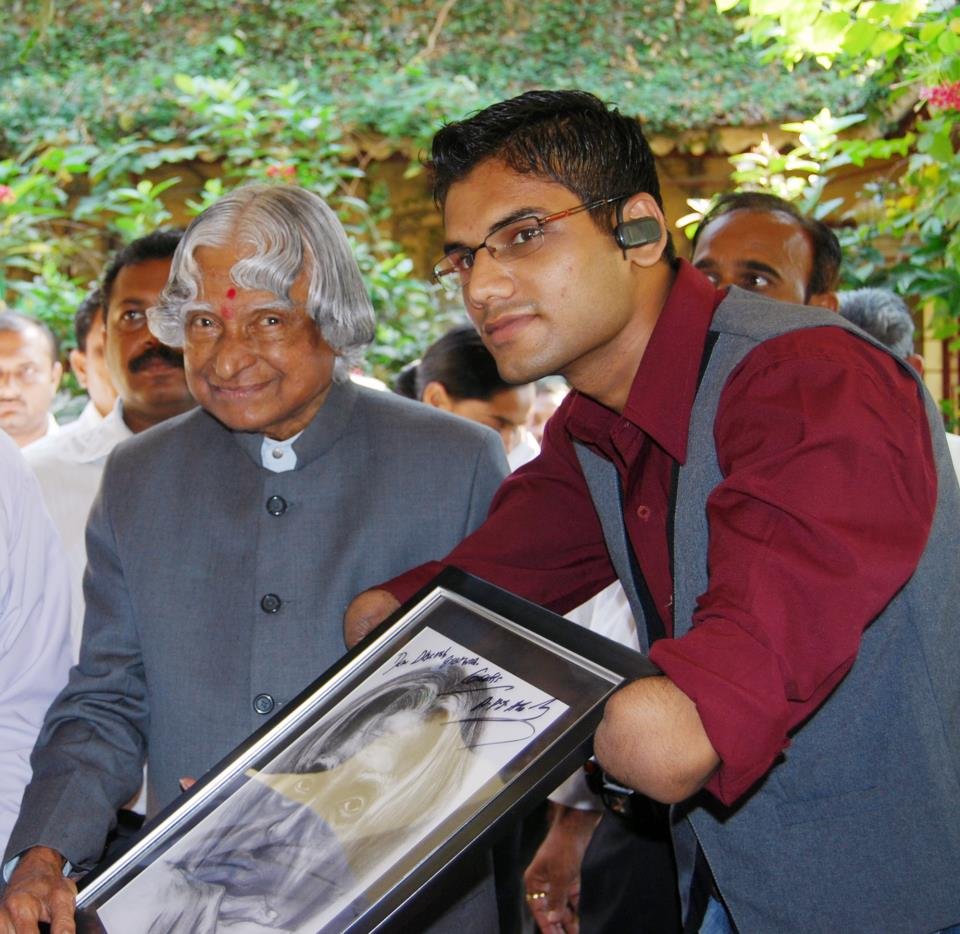 When he was in the hospital, his mother made him practice holding a pen and a pencil. Gradually, he started to sketch and paint. For full six months, he dedicated himself towards it and got a foothold on it and Now, he can draw sketches and make paintings fluently. So far he has completed around 300 paintings. He has additionally been a part of several TV shows and has additionally performed several live painting shows.
Dhaval Khatri calls himself "an artist, not by choice but by chance." Here are the few photographs of him sketching and painting.
Do let us know if you find such incredible stories around you and we would like to share their story with others.
---
The incredible story behind double amputee and India's top Paralympian, Suyash Jadhav
Suyash is an Indian Para swimmer competing in the S7 category. He is one of the Indian Para swimmers who have accomplished the 'A' qualifying mark for the 2016 Paralympics in Rio and is being upheld by the GoSports Foundation through the Para Champions Program in front of his Paralympics journey.
Suyash was born in 1993 in Solapur, Maharashtra. He began swimming at a young age, following in his father's footsteps who was a national level swimmer. Suyash wants to fulfill his father's dream one day by competing and winning medals at the international stage.
Tragedy struck in Class 6 when a routine day of fun and games ended with Suyash suffering serious injuries to his upper limbs after getting accidentally electrocuted by unprotected wiring at a construction site. Both Suyash's arms had to be amputated and he subsequently spent six months in hospital following the incident. Suyash, however, did not give up on his dreams and his love for swimming.
He continued to compete in differently-abled competitions locally and began to show promise. Not long after he started competing and winning medals for India at the international level, fulfilling his childhood dream.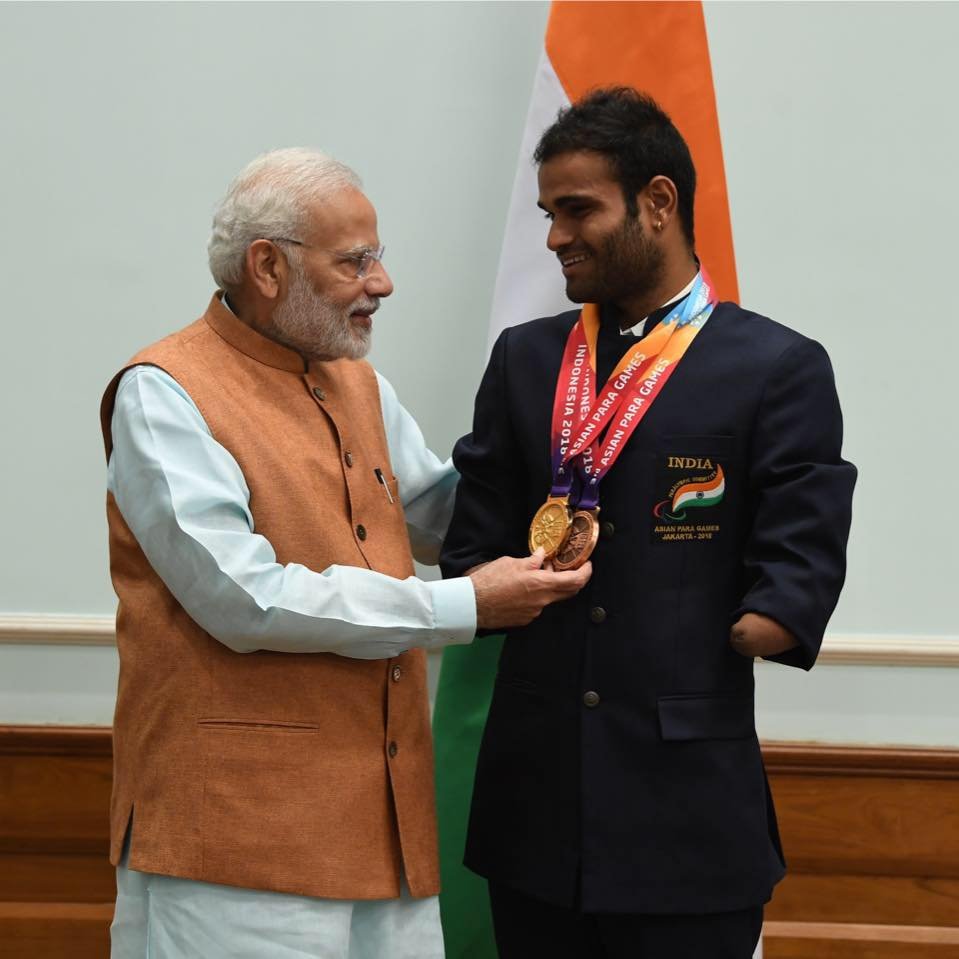 Suyash became the first Indian para swimmer to record the 'A' qualifying mark for 2016 Paralympics in Rio and left a mark on the biggest stage of them all. Not only was he India's lone swimmer at the 2016 Paralympics, but he also set new personal bests in two of his three events at the Games. Suyash also won a Silver medal at the 2017 IDM Berlin World Para Swimming World Series and represented India at the 2017 IPC World Para Swimming Championships in Mexico City.
"You can accomplish anything with sheer hard work. Think of what you have and not what you don't have," said para-swimmer Suyash Jadhav 
Do let us know if you find such incredible stories around you and we would like to share their story with others.
---
Defying all odds, Manasi Joshi wins her first gold medal at Para-Badminton World Championship
Badminton star PV Sindhu has been the talk of the town for clinching gold at the World Championships. Along with her para-badminton player Manasi Joshi also created history by securing gold at the World Championships, just a day before Sindhu.
It was a dream come true moment for Manasi when she emerged victorious against experienced compatriot Parul Parmer in the women's singles SL3 final on Saturday.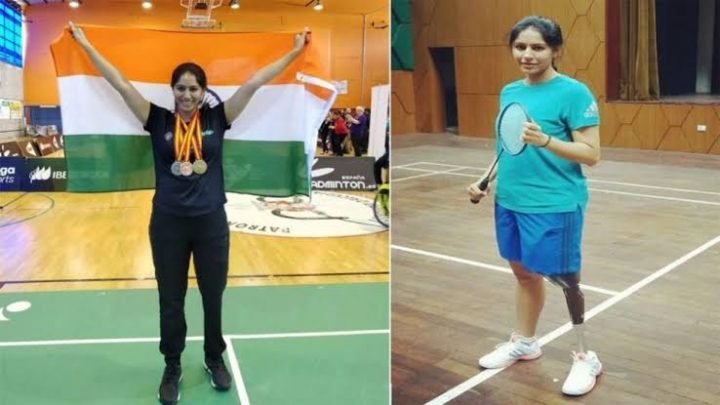 Life's other plans
In 2011, Manasi met with an accident when she was on her way to work, which left her with a crushed left leg, broken arms, and numerous other injuries. After 10 hours of struggle in the operation theatre, Manasi came out with one leg amputated due to gangrene.
In 2012, she re-learned how to walk with a prosthetic limb for around four months, and participated in an inter-company badminton championship where she bagged a gold medal. This time too, she was crowned the winner. This victory gave Manasi a surge in confidence, and she continued playing badminton. It was only the start of an inspiring journey in the sport. She also got trained in scuba diving.
In 2014, Manasi tried to participate in the Para Asian Games but wasn't selected. The same year, Manasi played her first national-level badminton tournament and ended up winning a silver medal. A 5th position finish in the Spanish Para-badminton international championship next year was nothing short of an achievement.
Joshi trains at Pullella Gopichand's academy in Hyderabad, which has among its stars Sindhu and World Championship bronze winner Sai Praneeth.
For somebody who played Nationals in 2014 and within these five years is currently a World champion, Manasi says she owes it to the total group of care staff at GopiChand Academy including mentors where she prepared for two months before going for the championship tournament.
"It feels extraordinary to be known as the world champion. It's never simple for any athlete and somebody like me who needs to confront difficulty on all fronts to script this golden moment in my career,"  Manasi said after becoming a world champion.
"I trust that life will change, after sacrificing everything for this golden moment, in terms of better support, especially like getting the best equipment to pursue my dreams of winning a gold in the Paralympics and next Asian Games," said Manasi.
With just one year to go in the 2020 Paralympics, Manasi has her sight set on her next target.
Her advice to youngsters
Giving advice to the young generation, a confident Manasi said, "People lose hope because there are people around them who tell them that it will be difficult. I want to tell everyone that it is really easy. If you think you want to do it, you will find people who will help you and make you reach where you are supposed to go. Things are extremely easy. All we require is honesty and patience."
Manasi's spirit has helped her face life's curveballs with ease and adaptability.
Do let us know if you find such incredible stories around you and we would like to share their story with others.
---
Mumbai train blasts survivor, biking hero & para archer, Mahendra hopes to inspire others who have been through a similar experience.
An avid biker and para archer, Mahendra Pitale's magic hands have created idols out of the mud. His skills had earned him enough to run the family. But a blast in a train at Mumbai's Jogeshwari station in 2006 changed everything. He lost his left hand in the Mumbai local train bomb blasts, but that did not deter Mahendra Pitale from chasing his dreams.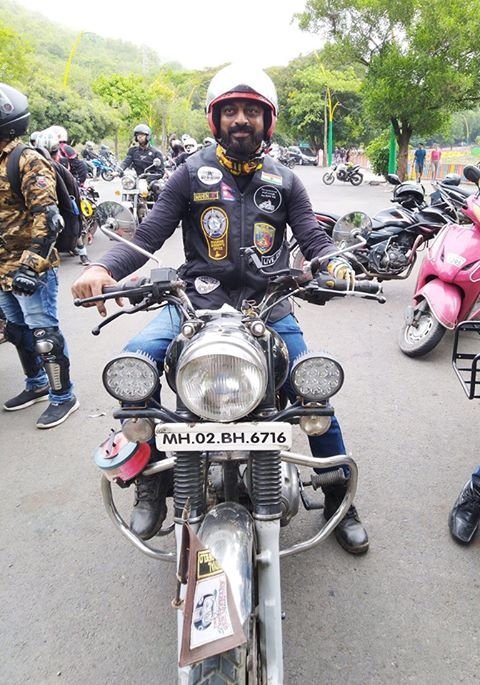 While narrating the incident Pitale said: "It's been 10 years and I still recall the whole incident which took the lives of 188 people on that day. On July 11, after leaving my office in Vile Parle, I was on my way to the station. A bomb had exploded in a local train at Mahim, in which I too was travelling. Impact of the blast was so intense that I flew off the compartment and later discovered myself lying on the platform in a pool of blood. I held onto my crushed arm till I reached the hospital. When the doctor said it could not be restored, I was shattered," he said. For months Pitale was in depression, as he lost his job in a glass sculpting and interior design firm.
Mahendra lost his left hand—and his zeal to live. A passionate biker, Mahendra decided to hit the road with bullet motorcycle after 12 years with his prosthetic arm. He participates in bike rallies for good causes and volunteers for NGOs that work for the betterment of the disabled. "While working with the NGO I came across people who don't have both their legs and are wheelchair-bound. There are people who are visually-impaired and have to be dependent on others for their needs. This made me realise that I have not suffered as much as these people must be going through," he said.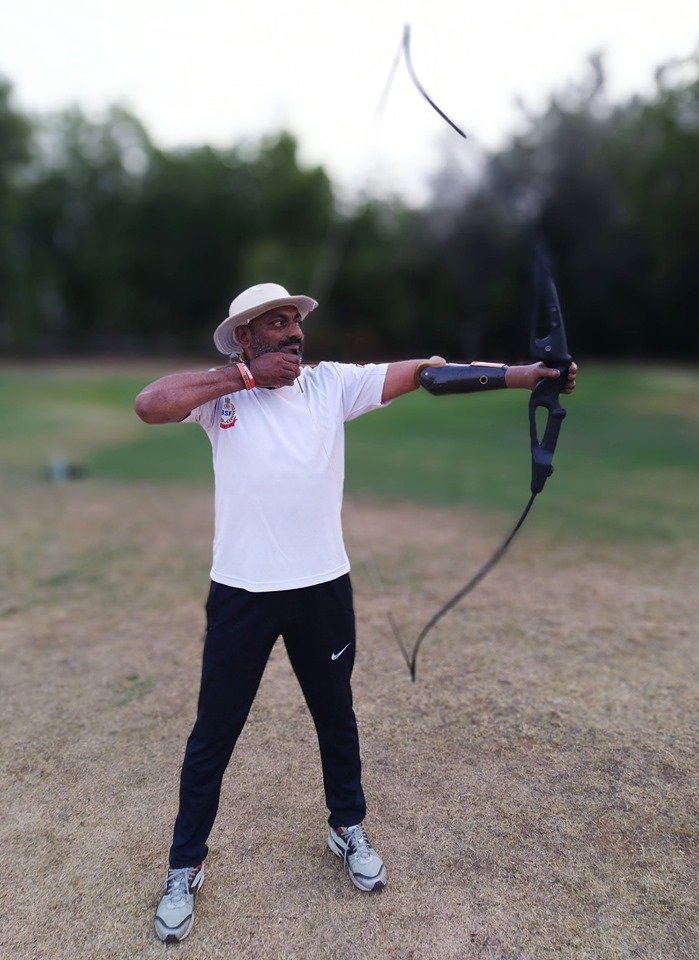 Mahendra's indomitable spirit was the one that helped him overcome his fears and bring normalcy in life again. "This prosthetic arm has now become a part of my life and I feel nothing unusual about it now. Yes, I cannot work with the same speed as I used to earlier" said Mahendra. However, with the help of a prosthetic arm and a positive attitude towards life, he started a fresh. Currently, he works with the Western Railways as a grade IV employee.
At present, Mahendra is now trying to improve his archery to get into the Paralympics.
More importantly, he finds time to counsel those impaired by accident or disease. "I go to such traumatized people and tell them my life story," he said.
"I tell them to have faith and there is something better in store for them," said Mahendra.
Do let us know if you find such incredible stories around you and we would like to share their story with others.
---
Indian Cricketer Who Lost his Hand but not his Spirit: Mayur Dumasia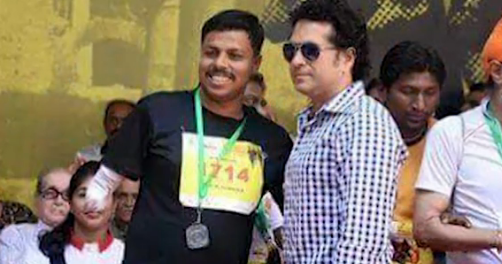 An aspiring cyclist and a batsman, amputee Mayur Dumasia have created history by attempting a record-breaking cycle expedition.
Mayur had lost his right arm in a train accident in 2001 when he was just 14 years old. He was shattered and attempted suicide twice but thanks to the rock-steady support of his father and brother, he gradually picked-up the threads back to life.
Speaking further about his preparations about this expedition Mayur Dumasia said, "I have prepared myself for this journey in extreme weather conditions, and in very challenging situations such as cycling in extremely cold weather up to 100 miles each day. I have practiced very hard because I am committed to the cause".
The talented cyclist pedaled from Delhi to Mumbai for awareness of multiple Social Issues women's safety, Swachh Bharat, Beti Bachao Beti Padhao and spread awareness. His journey was across 5 Indian states, over 1600 km and in a span of 15 days to reach his final destination, Mumbai. His expedition also includes filling potholes throughout the route.
Currently, he is a Batsman in the Indian Disabled Cricket Team. He was even part of the Indian cricket team for physically challenged that won the Asia Cup in 2015 and he has also played some winning innings in International Cricket Tournaments.
Since his right hand was amputated, he had to start over completely. He started to use his left hand to do the basic chores of daily life. It took him nearly a year to write a complete sentence and thus was able to continue further studies. He says with astonishment and pride that today he is able to teach students Finance at the Graduation level and can extensively write some really tough financial calculations on the blackboard. He always takes time out for his students after class and motivates them not only to excel in studies but also extra-curricular activities and counsels them on various other issues.
Mayur's journey was brought alive on social media, including his interactions with school children, soldiers, and villagers. Also captured were his struggles through bad roads and cold weather conditions and the triumphant moments, making this expedition a first of its kind for more than one reason.
Do let us know if you find such incredible stories around you and we would like to share their story with others.